We asked you in our last social media competition which city you chose for your further studies.
The top three cities quickly stood out:
The result clearly shows that many Luxembourgers are still drawn to the capital of our neighbouring country Belgium, Brussels, closely followed by Uni.lu and the Belval Campus. Charming Vienna ranks third.
Preparation is key
Leaving home and being on your own in a foreign city is a challenge for many. It is important to have an overview of all the costs in advance, and ideally to set a monthly budget.
We have summarised below the main costs for the cities of Brussels, Luxembourg City and Vienna.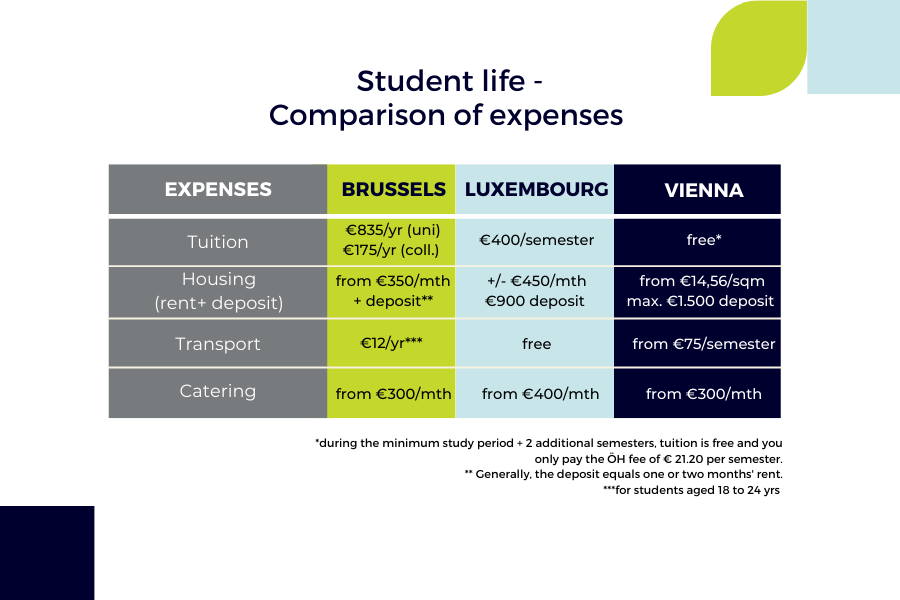 Tuition fees
In Brussels, carefully determine whether your institution is a university or a college (as in Hochschule in Germany). This is because there is a difference when it comes to registration fees.
While EU students at colleges pay a tuition fee of €835 per year for a Bachelor's or Master's degree, the fee at universities is lower. For colleges, the Wallonia-Brussels Association has set a minimum rate, known as the "Minerval", depending on the type of institution. For short degree programs like a Bachelor's (three years), the maximum annual minerval is €175.01 per year and €227.24 for a final year. To find out the exact amount of your tuition fees, you should therefore check directly on the website of the institution concerned.
At Uni.lu in Luxembourg, on the other hand, registration fees are charged per semester. These amount to €400 for the first two semesters, and €200 for semesters 3 to 6. So, for a three-year Bachelor's degree, for example, you pay a total of €1,600 in tuition. In addition, Uni.lu applies a €50 processing fee per application. However, students who end up enrolling in a degree program will have the application fee deducted from their first semester tuition. People whose applications are rejected do not get their fees refunded.
In contrast, the city of Vienna attracts students with its (almost) tuition-free offer. As an EU/EEA/CH citizen, you are exempt from tuition fees for the minimum duration of your studies plus two additional semesters and only pay the ÖH student union fee of €21.20 per semester.
Example: you can complete a three-year Bachelor's degree (six semesters) without tuition fees over a total of eight semesters thanks to the two additional semesters. Once the tuition fee-free period ends, you will pay tuition fees of €363.36 and the ÖH student union fee each semester.
Student residence or private accommodation?
It is no secret that rent prices in Luxembourg are challenging for young people. That is why it is a good idea to look for a student residence. Uni.lu offers this type of accommodation from €450 per month. In addition, you have to pay a one-off rent deposit of €900, which is usually refunded at the end of the contract and rent insurance costing at least €60 per year.
Student residences are also popular in Brussels. Prices vary according to amenities and comfort. If you choose this type of accommodation, you will have your own room, but you will have to share the kitchen, living room, bathroom and toilet with other students.
A room costs an average of €350 per month, including all utilities (water, heating, electricity). Although this price may vary from one university to another, there is one common characteristic: the limited number of places. The general rule is first come, first served.
Private accommodation costs between €350 and €500 per month in comparison. A rent deposit is also required in Belgium. In most cases, this corresponds to one- or two-months' rent.
In Vienna, on the other hand, the trend is more towards private accommodation in the form of shared flats. Viennese rental prices are to be compared with prices in Luxembourg. The average price for rental flats in August 2022 was highest in the Innere Stadt district at €23.46/sqm and lowest in the Meidling district, at €14.56/sqm. In view of the prices, shared accommodation makes perfect sense. Expect a rent deposit of €1,000 - €1,500.
Transport
There is one aspect in which no other European city is ahead of Luxembourg, and that is in terms of public transport. All public transport to include bus, train or tramway has been completely free in Luxembourg since 1 March 2022! In Brussels, students get reduced fares. For example, there is a special offer by STIB for "Brussels residents" aged 18 to 24 amounting €12/year, but it is limited to the Brussels area. SNCB offers a subscription for students that includes travel throughout Belgium. However, the exact price depends on the route and can be calculated here.
Vienna is probably the most expensive city regarding transport. The price for a semester ticket for students* under 26 years of age with their main residence in Vienna is €75. If you live outside the city, the ticket costs €150 per semester. There is also a monthly pass for the holiday months of July and August available for €29.50.
Catering
Naturally, student life also makes you hungry! Food costs about the same in Brussels, Vienna and Luxembourg City. You should plan a monthly budget of €300 - €450. This is just an estimate and depends on your personal preferences and lifestyle.
Financial support for your new stage in life
Whatever higher education institution you enter - you are in for an unforgettable experience!
It is important that you are well prepared to avoid unnecessary stress.
Once you have made your decision, financing your studies is of course at the top of your "to-do" list.
The government-guaranteed student loan (AideFi) supports you at every stage of your studies and offers you a range of benefits.
First, apply for the state financial aid using the form on guichet.lu. Once your application has been accepted, a confirmation letter will be sent to your address. With this letter in hand, you can contact your Raiffeisen advisor to get your student loan.
Banque Raiffeisen supports you on your path to education, offering you three options* for financing your studies:
The government-guaranteed student loan, which must be repaid two years after halting studies or graduating.
An advance on the government-guaranteed student loan of up to €3,000 with 0% interest.
If additional funds are required: the Study PLUS supplementary loan can be available up to an amount of €15,000 (in annual amounts of up to € 2,500 over 6 years) at a particularly attractive interest rate.
*Subject to acceptance of your application
Whether you choose a government-guaranteed student loan on its own or in combination with a Study PLUS loan, both options allow you to defer repayment of the loan to the end of your studies.
Are you applying for a student loan for the first time?
For every new government-guaranteed student loan or advance, you will receive a voucher worth €150!
You can redeem this voucher at either Letzshop or Cactus, or you can choose to invest in microfinance and sustainable development**.
Contact your Raiffeisen advisor now for your student loan to ensure that you enjoy your student life to the fullest!
** This is neither a recommendation nor an investment advice.