Consom'action and the change in society
Nowadays, clients play an active role in the process of consumption. They are informed and will not easily be fooled by the consumer society praising any given products or services.
Today, customers are actors of their own life, emphasizing  responsible consumption and critical judgement towards their daily commitments. In other words, their aspirations and values globally changed. According to their convictions, they often "act" by choosing a more respectful approach and by sticking to social and ethical values. 
Raiffeisen is a co-operative bank. Concretely, what are the advantages?
Financial companies are not all under the same legal regime! For example, in the cooperative model, clients can become members and don a double role. At the same time, they can be customers and owners of their bank. So as a member, they are able to participate in the ordinary general meetings of their bank.
A cooperative works according to the principle of "a person, a voice" and not according to the rule "a share, a voice".
Raiffeisen is a co-operative bank and this changes everything!
As the first co-operative bank of Luxembourg, Banque Raiffeisen concentrates its scope on a local level, which allows the bank to make fast and independent decisions with perfect knowledge of the regional context.
Thus, our clients can be sure that they always will be a central focus on our short- and long-term concerns.
Being a cooperative bank, Banque Raiffeisen's clients can become OPERA members and benefit in this way from many advantages offered to those members

The more you work with Raiffeisen, the more OPERA points you can benefit
As a member, you can collect OPERA points by working with your bank.
You can accumulate OPERA points by entrusting us your savings or the financing of your projects (car, building, higher education of your children,…).
Afterwards, you will be able to use your points for paying the yearly contribution of your bank cards, contributing to the savings intended for your children and/or grandchildren, doing a good deed for a charity organization, or you can even exchange your OPERA points for cinema tickets if you are a Green Code client.
OPERA PLUS: more benefits, naturally!
With a constant concern for our members' best interests, we have created the OPERA PLUS package, a set of pricing benefits covering: credit and debit card fees, lower handling charges for mortgages and/or personal loans, reduced investment fees, plus an array of other benefits and discounts.
You can significantly reduce your bank charges because your OPERA points can also be used to pay part or all of your monthly OPERA PLUS fee.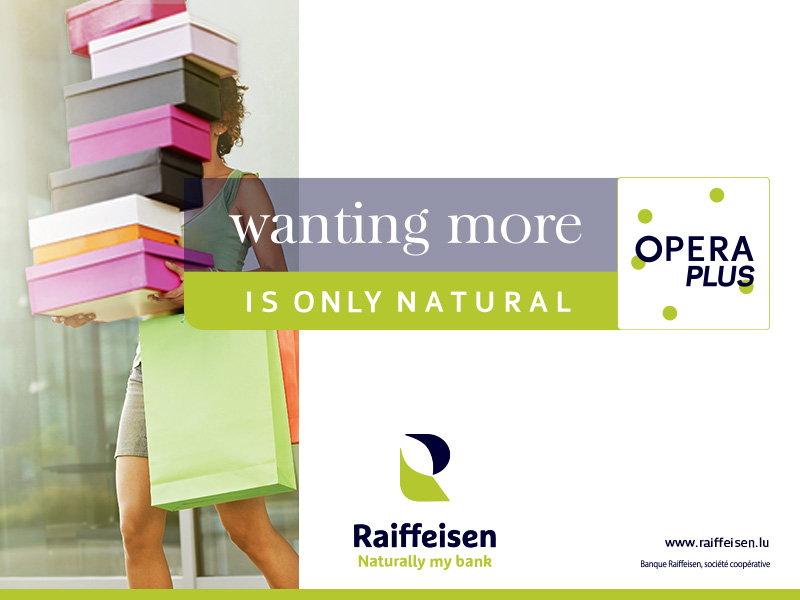 Interested in becoming a co-operative bank member? 
It couldn't be easier! You simply need to be (or become) a Raiffeisen client and subscribe to a membership share costing €25. Contact your usual advisor in your nearest Raiffeisen branch, or fill in this online form.