The discussions with POST in 2014 about a future model for POST customers led to the signing of an agreement in 2015. This is to benefit the customers of POST Luxembourg as well as Banque Raiffeisen. The teams of both partners have been continuously working on the implementation and development of their partnership since February 25th, 2016.
POST and Raiffeisen customers are the first to benefit from the partnership
1. Simplification thanks to the development of digital tools
Together, POST and Banque Raiffeisen have developed their digital tools so that all POST customers can easily access the full range of Raiffeisen products and services.
POST customers can open an R-TOP savings account in just 3 minutes, apply for a home and private loan and do all their daily operations through the CCP Connect online banking portal.
The R-TOP savings account is particularly advantageous because, in addition to the "classic" interest paid on the assets, it offers additional remuneration on new funds deposited with the bank.
2. Accessibility via an extensive network
POST customers have the opportunity to conduct their daily banking transactions (withdrawals, payments and transfers) both in the POST network and in Raiffeisen branches.
Both POST customers and Raiffeisen customers and members can now withdraw money at both POST and Raiffeisen ATMs with their V PAY card. This gives them free access to more than 100 ATMs across the country. Additionally, thanks to the partnership, all transfers between POST and Raiffeisen are free of charge.
For optimal support, Banque Raiffeisen has also set up its own hotline for POST customers (8002 2450).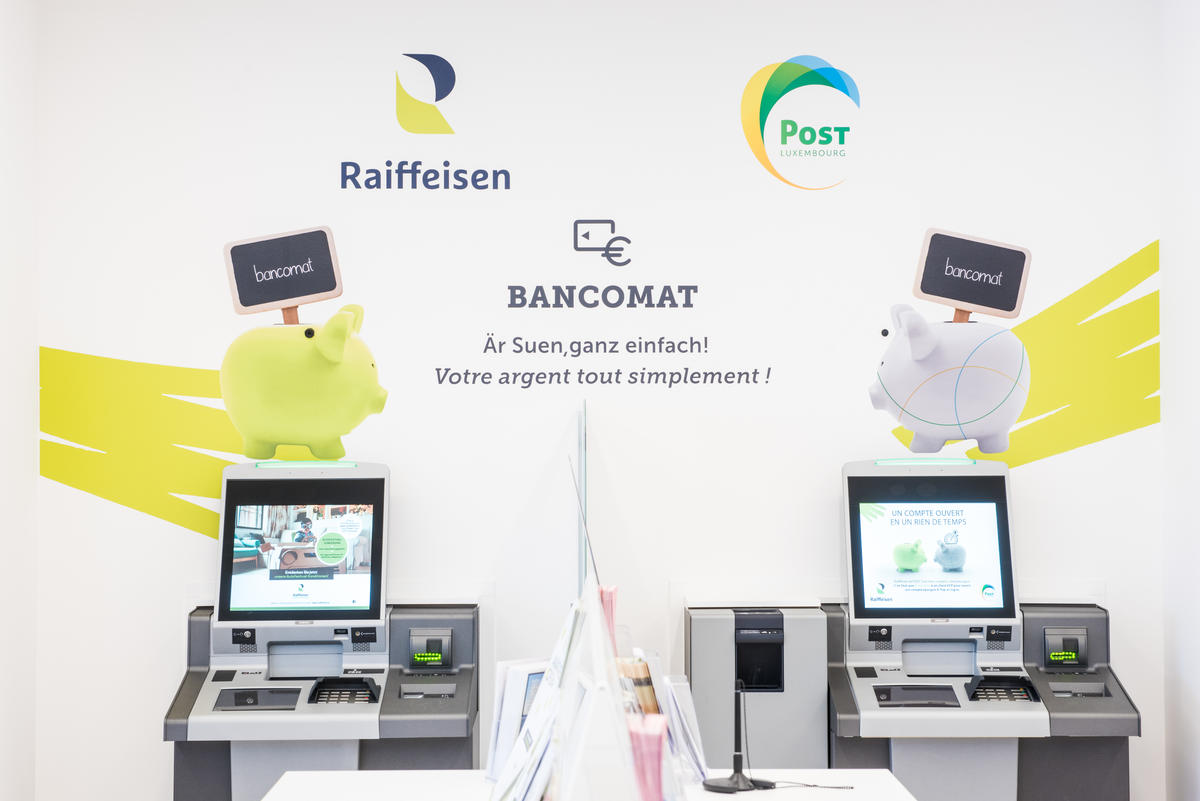 3. Additional service for Raiffeisen members
The partnership gives POST and Raiffeisen the opportunity to work together to develop a range of services to further enhance the quality of the service that Banque Raiffeisen offers to its customers and members. For example, Raiffeisen members can exchange their OPERA points for POST vouchers worth EUR 10, which can be redeemed in POST Telecom shops.
4. Summary of benefits
The partnership has brought some benefits to both POST and Raiffeisen customers:
Free V PAY cash withdrawals everywhere in the POST and Raiffeisen ATMs, i.e. more than 100 automatic telling machines for CCP clients and Raiffeisen clients alike
Electronic credit transfers (CCP Connect and Multiline) free of charge from a CCP account to a Raiffeisen account, and vice versa
CCP clients now have easier access to Raiffeisen banking products and services
New R-TOP savings account
Free calls to the Raiffeisen Client Service Centre: Tel. 8002 2450